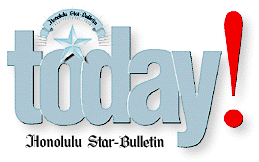 ---
By Kathryn Bender, Star-Bulletin
Peter Hernandez Jr. goes from baby Elvis t
 o the prince of doo wop.
---
[size=48]Bruno's back[/size]
The youngest Elvis impersonator
has a whole new stage persona
By John Berger
 Special to the Star-Bulletin

Peter Hernandez Jr. sang at age 2. He went professional at 4, quickly become a showroom star in Waikiki, and had a small role as himself in "Honeymoon in Vegas." His fans knew him as Bruno -- the world's youngest Elvis impersonator.
Bruno retired that moniker several years ago. Now he's back in Waikiki singing with his father, Pete "Dr. Doo Wop" Hernandez, and the Love Notes.
"This is the music I've been listening to since I was 2 years old because of Pops," said Bruno.
The group opened at the Waikiki Terrace Hotel two weeks ago in what is the new Love Notes Showroom. Bruno's proud father hopes to recreate the excitement that surrounded the 'Notes headliners for seven years at the Esprit Nightclub in the early Nineties. A later gig at a now defunct oldies-theme bar, was a dead-end for them, but now father and son are bringing doo wop back to Waikiki. Pete Hernandez says this is only the beginning.
"My passion in life is doo wop music and it always will be. The harmonies are so beautiful and the emotions are timeless. To sing these beautiful songs with my son is the greatest feeling in the world."
Bruno spends four days a week rehearsing with the group after he finishes the day at Stevenson Intermediate. Graduating from high school, studying acting, and becoming a successful recording artist are his longterm goals. In the meantime, he says, the Love Notes "are like a family to me."
He enjoys playing drums, piano, guitar and "a little bass and 'uke," and likes rap and rock as well as the love songs and oldies he sings in the show. Skateboarding and "hangin' out" are two favorite non-musical activities.
The Love Notes introduced themselves as Hawaii's only resident a capella doo wop vocal group in 1983.
By 1986 Hernandez had the personnel that would take the original group to its peak: Felix Almestica, John Loprete, Mike Baker, Johnny Bock, Pat Miguel and John Valentine. Miguel and Valentine had performed in Waikiki as Night Splendor; they introduced the group to the technique of sequencing recorded material to give the show a bigger sound. The scope of the group's show expanded exponentially thereafter. Within a few years it was the Love Notes Revue with heavy reliance on synthetic instrumental tracks, celebrity impersonations, and two indistinguishable "girl group" auxiliaries.
Hernandez noticed his namesake did a cute impression of Elvis. Peter Jr. reminded some in the family of a miniature version of professional wrestler Bruno San Martino. The nickname stuck. Bruno was an instant hit. A legend was created. Bruno became the group's star-in-residence.
That was almost 10 years ago. Hernandez and Bruno's mother are now divorced. Father and son share a home in Manoa and plans for the future. They're working on all-Fifties and all-Sixties shows. They plan to go for a more acoustic sound and add Bruno's three younger sisters to the show.
"They grew up in his shadow and they're a little shy," Hernandez says. "Bruno never was."

The Love Notes

When:
8:30 p.m. Friday through Sunday

Where:
Love Notes Showroom, Waikiki Terrace Hotel

Cost:
$20 includes one drink

Call:
955-3000 or 261-2163